Alpine iLX-702D Apple CarPlay, Android Auto, HDMI 7" Headunit
Pickup available at Oz Audio Shop
Usually ready in 2-4 days
Alpine iLX-702D Apple CarPlay, Android Auto, HDMI 7" Headunit
Oz Audio Shop
Pickup available, usually ready in 2-4 days
3/20 Sundercombe Street
Osborne Park WA 6017
Australia
+61490972879
Smartphone Navigation 
Apple CarPlay and Android Auto works seamlessly with the included GPS and Glonass antenna to provide an accurate navigation experience. With voice control you can set your destination or use the display to type in a location and begin driving. Plus, voice guidance gives you turn-by-turn instructions to keep you on your designated route.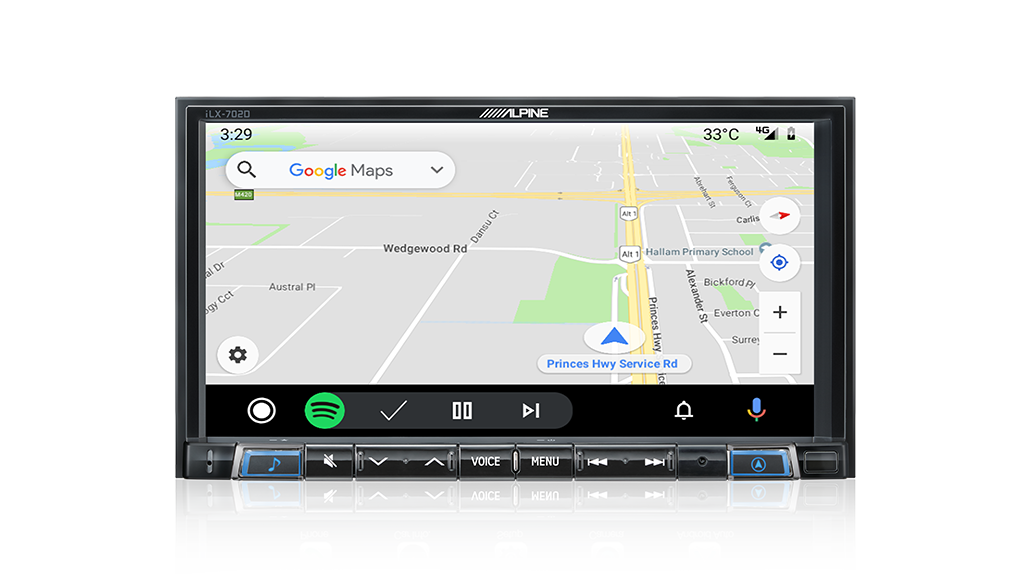 Sygic
The Sygic smartphone app is ready for use with Apple CarPlay bringing an in-car navigation experience to your dashboard. The Sygic app provides off-line maps with frequent updates and handy features such as traffic camera alerts, live traffic, lane guidance, actual speed and speed limits when using the paid service.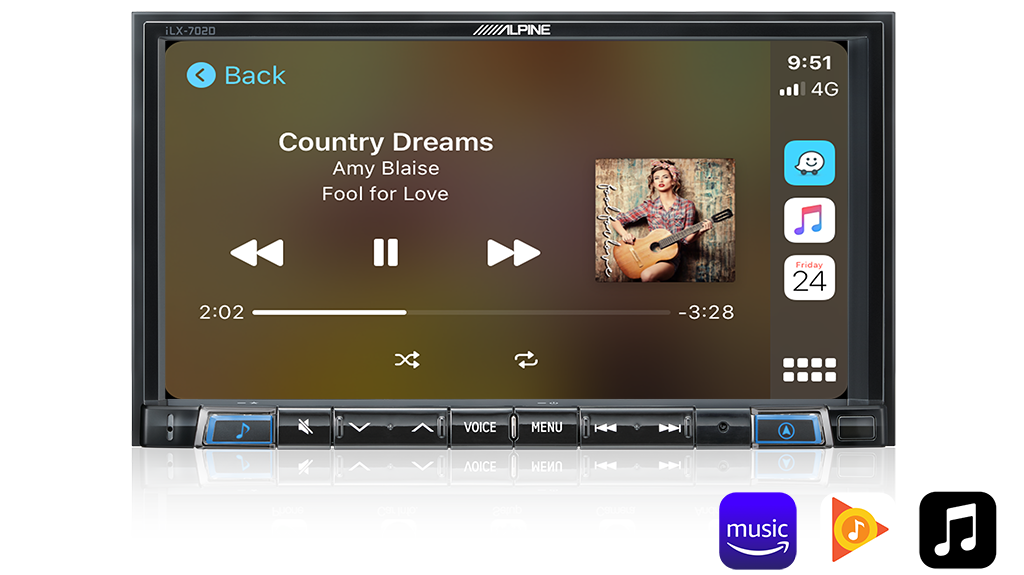 Audio Streaming Apps
With Apple Music onboard for Apple CarPlay you have access to 60+ million ad-free songs at your fingertips which you can search genres, artists, podcasts and expertly crafted playlists. With the use of Apple CarPlay or Android Auto, Amazon Music and Google Play Music provides limitless entertainment to stream or download songs from a list of over 40 million ad-free tracks. Amazon Music, Google Play Music and Apple Music are paid subscriptions.
Spotify
Access the worlds music library with millions of tracks and episodes available on Spotify. When using Apple CarPlay or Android Auto with the Spotify app, you can play the latest songs from your favourite artists, charts and playlists. Plus, browse through the collections of friends, artists, celebrities and radio stations all from the comfort of the driver's seat. Furthermore, get unlimited skips, no ad interruptions and much more with the Spotify Premium paid subscription.
Calendar
Apple CarPlay brings your iPhone's Calendar schedule to your dashboard so you can stay up-to-date with future events and important dates whilst on the road. What's more, if you have a particular event with a location in your calendar, you can simply select the event from the display and Apple CarPlay will launch Maps and provide directions to the location with voice guidance.
Notifications
Android Auto provides you with a simple yet convenient tab to display incoming notifications such as text messages and phone calls. Incoming text messages automatically notify you via the display or you can browse through recent messages. From the display you have the option to either preview the message text or play the message via text-to-speech.
General

Apple CarPlay: Siri Voice Control, Apple Music, Spotify, iHeart Radio, Apple Maps*, Phone Calls, iMessages, Music (*Please check Apple Map availability at Apple official website.)
Android Auto: Voice command, Google Play Music, Spotify, Google Maps, Messages, Phone Call, Music
Power Output: 4 x 50 W High Power Amplifier
Advanced Power IC
7″ Capacitive Touch Screen Display
White LED Backlighting System
50/50 Split Screen: Left / Right Position Changeable
Control Type: Touch, Drag, Flick
My Favourites Function
High Grade Audiophile Design
3 PreOuts (2 V, Front / Rear / Subwoofer)
Steering Wheel Remote Control Function
Vehicle Display Interface Ready (UART connection)
Remote Control Ready
Navigation Guidance Mix
Camera Connection & Built-in Controls for Multi-View Cameras
Camera Guide Line Adjustment
Rearview Camera Display Automatic Boot-up
Simple Mode & Info Mode Display Selection
Visual EQ
Live Contrast Adjustment
Menu Language: 24 Languages (for AV / Bluetooth), 29 Languages (Navigation Menu and Voice Guidance)
Clock
Auto Dimmer
Anti-theft security code
Firmware Updatable
Power Antenna Lead
HDMI Input
Engine Start-Stop unaffected
Ready for optional DVD Player DVE-5300
DAB Tuner

DAB+ Tuner Built-in
DAB+/DMB Supported
DAB+ Slideshow Service
DLS (Dynamic Label Service)
DAB Service Following
RDS Fallback (where available)
Service Preset: 18 Preset Memory
Auto Ensemble/Service Memory
Service Search Function
PTY Search Function
Alphabet Search Function
Antenna Power Supply Selection
BLUETOOTH®

Built-in BLUETOOTH® Module
Wide Band Speech Technology
HFP (Hands-Free Profile) Compatible
Streaming Music: A2DP (Advanced Audio Distribution Profile) Compatible
Streaming Music Control: AVRCP (Audio / Video Remote Control Profile) Ver.1.5 Compatible
Advanced BLUETOOTH® Technology
Connection: SSP (Simple Secure Pairing) Supported
Individual Profile Connection Hands Free Phone and Music Streaming
Phone Book: Phone Book Synchronisation
Speed Dial: 4 Preset Memory (per phone)
Multiple Phone Number Registration: 5 Phone Numbers can be stored for one name
Device Name Display
Auto Answer
Call History Display: Outgoing Calls / Incoming Calls / Missed Calls
Redial Function
Speech Volume Level Adjustment: Possible for Outgoing and Incoming Volume
DTMF (Touch-Tone) Function
Signal Strength Indicator
Battery Level Indicator
Microphone Included
Made for iPod® and iPhone®

Compatibility for iPod/iPhone: compatible with all models except 1st and 2nd generation iPhone
Connection: KCU-471i Required (Sold separately)
Music Playback
Available Selections: Playlist / Artist / Album /Song / Podcast / Genre / Composer / Audiobook
Alphabet Search
Artwork Display
Direct Up / Down: Playlist / Artist / Album / Genre / Composer
M.I.X. (Shuffle) Play: Song, Albums, All
Repeat
Battery Charging
USB Media Connection

USB Connection: USB Extension Cable Included
Music Playback: FLAC/MP3/WMA/AAC compatible
Video Playback: MP4 compatible
File / Folder Name Search
Tag Info Search
Folder Up / Down
M.I.X. Random Play
Repeat
Sound Tuning

Bass Engine SQ
Bass Engine™ Pro
Subwoofer Level Adjustment
Subwoofer Phase Select
2 V PreOut
Equaliser: Flat, Pops, Rock, News, Jazz, Electrical Dance, Hip Hop, Easy Listening, Country, Classical
Dual HD EQ (9-band Parametric Equaliser front/rear)
6 Channel Digital Time Correction
Digital Crossover Setting
Customised Sound Setting by Car Type
MediaXpander HD
Application Volume Level Setting
Sound Setting Data Download
Easy, Step-by-Step Sound Customisation
Specifications

Screen

Screen Size: 7-inch Capacitive WVGA
LCD Type: Transparent Type TN LCD
Operation System: TFT Active Matrix
Number of Picture Elements: 1,152,000 pixels (800 x 3 x 480)
Illumination System: White LED Backlighting
Effective Number of Picture Elements: 99.99%
Colour System: NTSC, PAL
Max Power Output Ratings
Max Power Output: 4 x 50 W
FM Tuner

Tuning Range: 87.5 – 108.0 MHz
Mono Usable Sensitivity: 8.1 dBf (0.7 µV / 75 ohms)
50dB Quieting Sensitivity: 12 dBf (1.1 µV / 75 ohms)
Alternate Channel Selectivity: 80 dB
Signal-to-Noise Ratio: 65 dB
Stereo Separation: 35 dB
Capture Ratio: 2 dB
MW(AM) Tuner

Tuning Range: 531 – 1,602 kHz
Usable Sensitivity (IEC Standard): 25.1 µV / 28 dBf
LW Tuner

Tuning Range: 153 – 281 kHz
Usable Sensitivity (IEC Standard): 31.6 µV / 30 dBf
USB

USB Requirements: USB 2.0
Max. Power Consumption: 1,500 mA (CDP Support)
USB Class: Mass Storage Class, Play From Device
File System: FAT 16/32
MP3 Decoding: MPEG-1/2 AUDIO Layer-3
WMA Decoding: Windows Media™ Audio
AAC Decoding: ACC-LC format ′′.m4a′′ file
FLAC Decoding
Number of Channels: 2-Channel (Stereo)
Frequency Response: 5 – 20k Hz ±1 dB *Frequency Response may differ depending on the encoder software/bit rate
Total Harmonic Distortion (at 1kHz): 0.008%
DynamicRange(at 1kHz): 95 dB
Signal-to-Noise Ratio: 100 dB
Channel Separation (at 1kHz): 85 dB
GPS/Glonass

GPS / Glonass compatible navigation antenna included
BLUETOOTH®

BLUETOOTH® Version: Bluetooth V2.1+EDR
Output Power: +4 dBm Max. (Power class 2)
HFP: HFP (Hands Free Profile)
OPP (Object Push Profile)
PBAP (Phone Book Access Profile)
HSP (Head Set Profile)
A2DP: A2DP (Advanced Audio Distribution Profile)
AVRCP: AVRCP (Audio/Video Remote Control Profile)
SPP (Serial Port Profile)
Sound Tuning

Subwoofer Level Adjustment: 0 to +15
Subwoofer Phase Setting: 0° or 180°
BASS ENGINE SQ: 5Mode, Level 0 to +6
HighPassFilter: 20 / 25 / 31.5 / 40 / 50 / 63 / 80 / 100 / 125 / 160 / 200 Hz
HighPassFilter (Slope): Off / -6 / -12 / -18 / -24 dB/oct.
HighPassFilter (Gain): -12 to 0 dB
LowPassFilter: 20 / 25 / 31.5 / 40 / 50 / 63 / 80 / 100 / 125 / 160 / 200 Hz
LowPassFilter (Slope): Off / -6 / -12 / -18 / -24 dB/oct.
LowPassFilter (Gain): -12 to 0 dB
Time Correction: 0.0 – 9.9ms (0.1ms step)
Dual HD EQ Front + Rear
Parametric Equalizer (Band 1): 20 – 100 Hz
Parametric Equalizer (Band 2): 63 – 315 Hz
Parametric Equalizer (Band 3): 125 – 500 Hz
Parametric Equalizer (Band 4): 250 – 1k Hz
Parametric Equalizer (Band 5): 500 – 2k Hz
Parametric Equalizer (Band 6): 1k – 4k Hz
Parametric Equalizer (Band 7): 2k – 7.2k Hz
Parametric Equalizer (Band 8): 5.8k – 12k Hz
Parametric Equalizer (Band 9): 9k – 20k Hz
Parametric Equalizer (Gain): -14 to +14
Application Volume Level Setting: -14 to +14
HDMI Section

Input Format 720p/480p/VGA
Output Format 480p
General

Power Requirement: 14.4 V. DC (11-16V allowable)
Pre Output Voltage (Before Clipping): 2 V / 10k ohms
Dimensions

Chassis Size (W x H x D) mm: 178 x 100 x 147 mm
Nose size (W x H x D) mm: 171 x 96 x 19 mm
- Allow 7-14 days for delivery to metro areas. (doesn't include Covid Restrictions)
- Fully insured freight
- Tracking info will be sent through TXT message