For all 70 Series enthusiasts who want to take their in-car sound to the next level, Alpine's premium sound solution has been engineered to provide rock solid durability and good looks, with amazing sound and clarity.
Equipped with Alpine's huge S-Series 6×9" speakers front and rear, experience punchy, concise bass as well as uncompromised sound performance and richness.
Comfort and Convenience have not been forgotten. Up front, the LC70-S69P houses drink compartments capable of holding a 1.25 litre bottle to a 375ml can – including large pockets to house maps, tablets, or books. To the rear, drinks up to 600ml can also be carried. For technological needs, there are USB charge ports both front and rear allowing charge of up to 4 devices at once. Built-in puddle lights also help light the way, assisting vehicle exits in unfamiliar situations.
Formed from injection-moulded and highly-resistant PC/ABS polymers, each part is highly durable and structured to withstand almost anything life throws at it. The sleek yet tough design of the LC70-S69P elevates the interior aesthetic, whilst honouring the rugged history of the vehicle itself.
The LC70-S69P is the pinnacle of sound performance, design and practicality. A must have accessory to ultimate 21st century off-road lifestyle.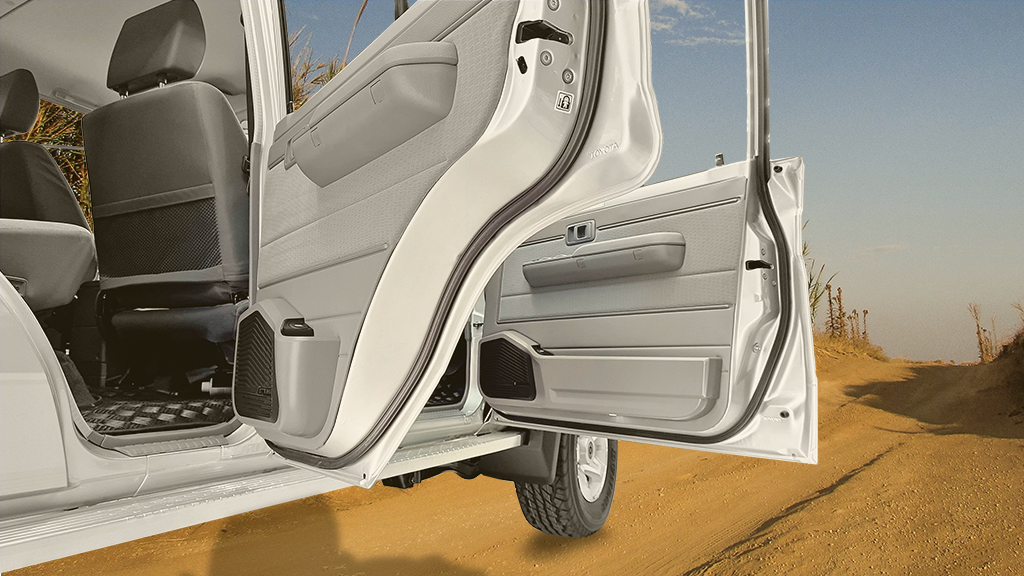 Perfect Integration
Alpine's premium sound upgrade for LC70 Series (Dual Cab) is the complete audiophile and lifestyle solution. The huge 6×9-inch S-Series speakers both front and rear not only sound great, but also provide clean and concise bass performance. Alpine's LC70-S69P combines rugged looks with subtle design cues from the vehicle itself to create a factory-look product for the 21st century.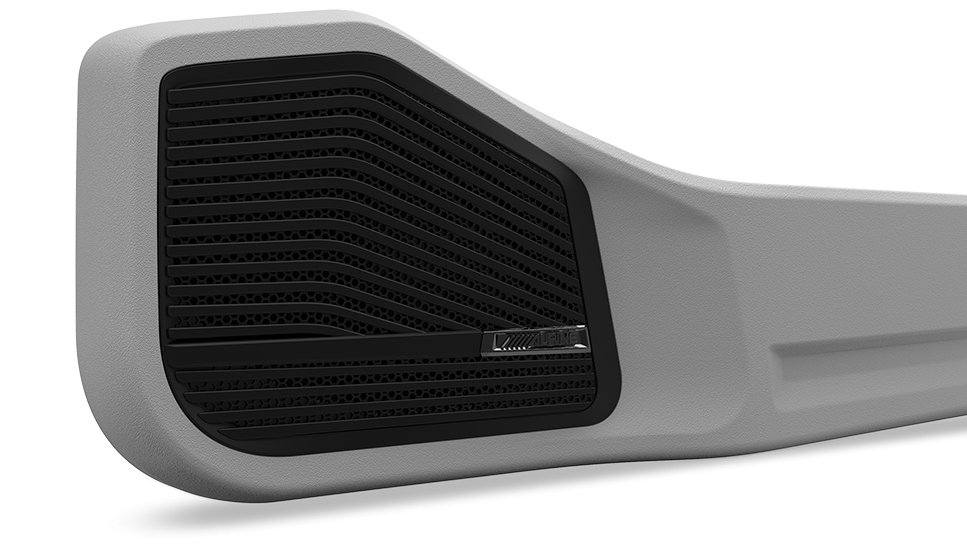 Highly Durable Tough Grille 
Without compromise, these flush-fit integrated speaker grilles have been engineered from a strong PC/ABS polymer blend ensuring high durability and abrasion resistance. A high-gloss black Alpine emblem adorns the grille, providing a striking contrast and premium finish to each door.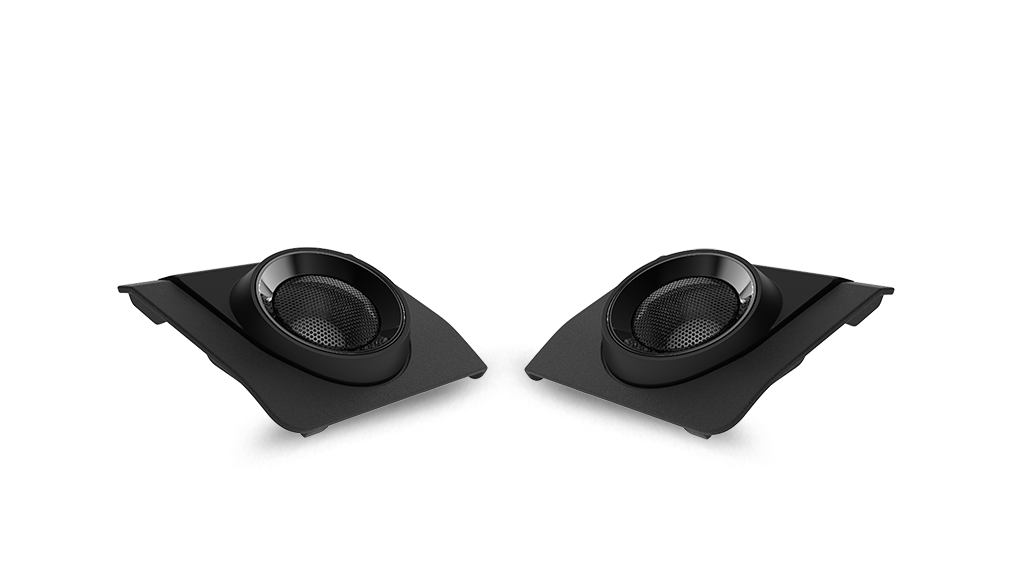 Premium Design Tweeter Housing
LandCruiser 70 Series never looked so good. The bold design of the tweeter housing fits into the top dash corners directly replacing the OEM dash trim panels, providing perfect integration with an OEM look. With the tweeters up on the dashboard, the sound image is up high where it should be and overall sounds incredible.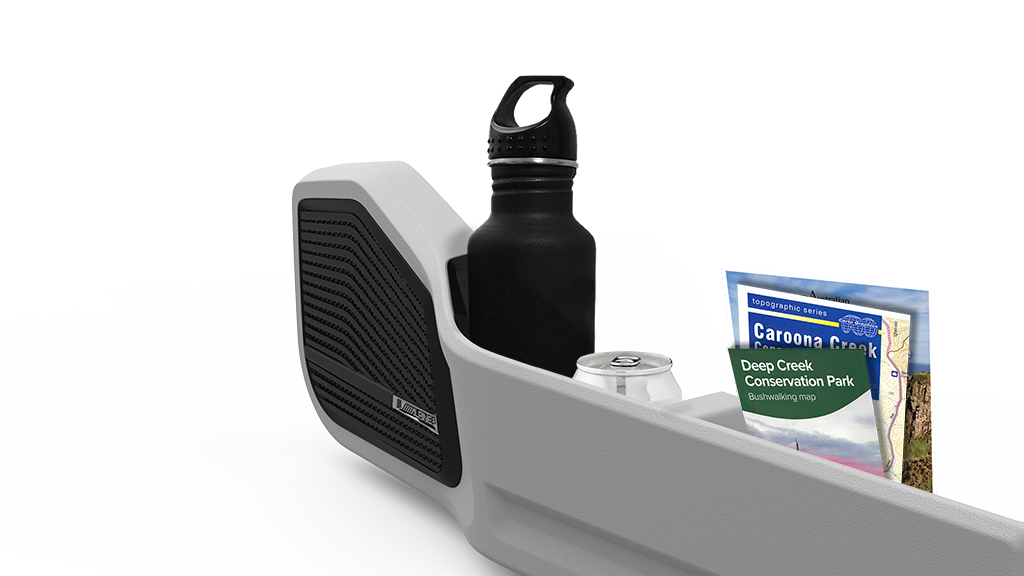 Carry Your Life With You
Alpine's design for the LC70 Series integrates a number of convenient necessities. Meticulously designed to accommodate both large bottles and small cans, as well as maps, tablets and almost anything else that will fit. Alpine's 70 Series speaker solution is ready for your next adventure.
Experience your music with remarkable Power and Authenticity
S-Series are engineered for amazing sound quality coupled with Alpine specific audio tuning. They feature Alpine's HAMR surround for high linearity and accuracy, plus a CFRP patented cone technology reproducing exceptional clarity and bass dymanics.
Industry First CFRP Woofer Cone
The S-Series speakers set an industry first, utilising CFRP (Carbon Fiber Reinforced Plastic), a very lightweight yet rigid material. On an ordinary oval cone, the edges are naturally weaker than the center due to the elongated shape. However, CFRP material is directional, and can be manipulated during the molding process to strengthen the areas of the cone that are normally weak. The result is rigidity throughout the cone that delivers accurate and efficient performance.
Alpine HAMR Surround
Alpine's patented H.A.M.R. (High Amplitude Multi-Roll) surround is now found on the S-Series speakers. This proven technology increases excursion while maintaining accuracy and linearity. The multi-roll design allows an even unfolding of the surround, which creates incredible linearity and colorisation rejection.