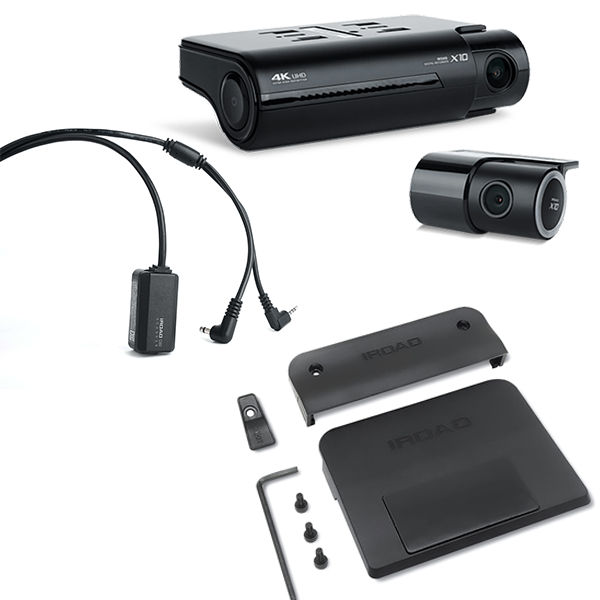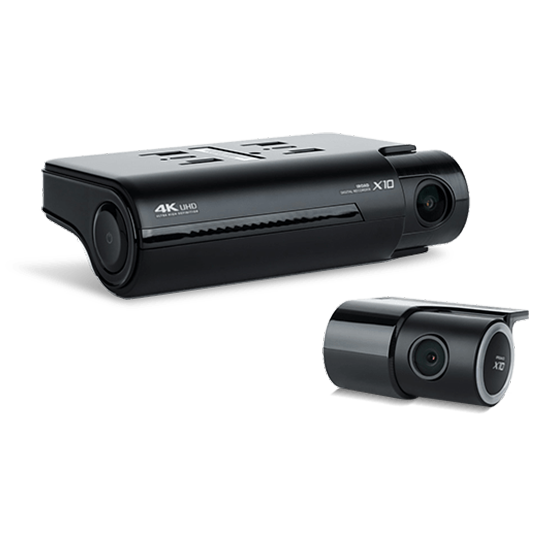 Iroad X10 Dash Camera Bundle
Pickup available at Oz Audio Wangara
Usually ready in 2-4 days
Iroad X10 Dash Camera Bundle
32
Oz Audio Wangara
Pickup available, usually ready in 2-4 days
1 Distinction Road
2
Wangara WA 6065
Australia
+61490972879
ULTRA HD 4K RESOLUTION
UHD 4K+1080P DUAL-CHANNEL RECORDING
4K ULTRA HIGH DEFINITION
The IROAD X10 Dash Cam comes with latest 8-Megapixel resolution image sensor and captures ultra-high resolution 4K video at a 165 degree wide angle.
THE BEST COMPRESSION TECHNOLOGY H.265(HEVC)
(High Efficiency Video Coding)
H.265 provides much greater flexibility for parallel encode / decode processing video.
This enhanced parallel processing capability allows Ultra High Definition (UHD) 4K videos to be supported.
It allows for further reduce file size of video stream and to compress image more efficiently. At the same recording time, you can experience 4 times bigger and better image quality than H.264
WIDE VIEWING ANGLE
IROAD X10 can widely record blind spots with the 165 ° front and 145 ° rear camera. See the 4K UHD image with a 165 ° wide view angle!
IMPACT & MOTION DETECTION
It will automatically start an event recording when a motion and impact are detected within the vehicle during both parking and driving mode.
Event files are kept separately both PC viewer and Mobile App
IROAD PC VIEWER
DETAILED SETTING AND FOOTAGE INFORMATION
FIND YOUR VIDEO DETAILS
The intuitive and simple-to-use interface of IROAD DASH CAM allows you an easy and convenient viewing of your recorded videos.
Through PC or Mac viewer, you can playback and download recorded videos along with your route history and speed record.
IROAD TIME LAPSE
Parking mode recording
IROAD Time lapse supports continuous recording at 1fps in parking mode. It allows memory saving in a way to continue up to 30 times more than other dash camera.
Also, it prevents the recorded files from being lost due to insufficient memory space. It is optimized for efficient memory usage.
EXTREME MEMORY EFFICIENCY
IROAD Time Lapse finds optimized memory capacity and provides extremely longer recording time than normal parking mode. It guarantees vehicle protection and restored video footage. IROAD Time Laps automatically gets into the mode by 1fps while parking and 10fps if there is any impacts or movements.
| | | |
| --- | --- | --- |
| PARKING MODE | NOMAL | TIME LAPSE |
| CAPACITY | 32GB | 32GB |
| FPS | 10fps | 1fps |
| RECORDING TIME | About 6H 30Min | About 16H |
OPTIMIZED FILE MANAGEMENT
Supports large capacity memory of up to 1TB.
So that genuine IROAD memory cards can always record High Definition video, strictly tested to ensure best speed and image storage stability. Applying the format and recording systems in order to support large memory of up to 1TB, you can store plenty of high quality images for a longer time.
STORAGE TIME BY MEMORY CARD
[Resolution]
Front : 4K UHD(3840*2160) + Rear : FHD(1920*1080)
[Frame Rate]
Driving mode : 30fps
Parking mode(Event/Motion) : 10fps
Parkong mode(Timelapse) : 1fps
A = Driving mode 100%
32GB : About 2H 40Min
64GB : About 5H 20Min
128GB : About 10H 40Min
256GB : About 21H 20Min
B = Parking mode : Event(Motion) 50% + Timelapse 50%
32GB : About 11H 15Min
64GB : About 22H 30Min
128GB : About 45H
256GB : About 90H
C = Parking mode : Timelapse 100%
32GB : About 16H
64GB : About 32H
128GB : About 64H
256GB : About 128H
A + B = Driving mode 50% + Parking mode 50%
32GB : About 7H
64GB : About 14H
128GB : About 28H
256GB : About 56H
A + C = Driving mode 50% + Parking mode 50%
32GB : About 9H 20Min
64GB : About 18H 40Min
128GB : About 37H 20Min
256GB : About 74H 40Min
IROAD X-SCANNER
OBDII DIAGNOSTIC CAR SCANNER
IROAD X10 supports an OBD2 Scanner (X-SCANNER). It can display current vehicle information including Engine RPM, Coolant Temperature, Fuel System Status, Vehicle Speed, DPF information, Gear Position, Battery Voltage and Transmission Oil: Diagnose your car's condition before driving.
It can prevent any issues and save your time!
IROAD X-VISION
INTELLIGENT NIGHT VISION FOR IROAD
AUTOMATICALLY FINDS OPTIMAL VIDEO QUALITY OUTSTANDING LOW-LIGHT PERFORMANCE
In parking mode, the surrounding brightness is automatically diagnosed within 5 seconds and the recording brightness will be set to 3 times higher when the surrounding illumination is low. It can record bright and clear images not only in parking mode but also in driving mode.
Normal parking mode
X-VISION parking mode
- Allow 7-14 days for delivery to metro areas. (doesn't include Covid Restrictions)
- Fully insured freight
- Tracking info will be sent through TXT message