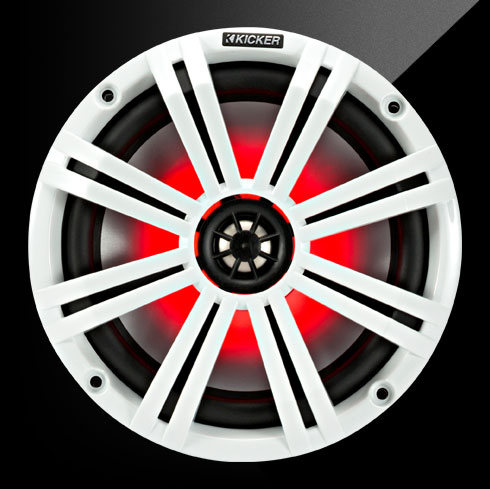 LIGHT IT UP
Our speakers are made to thrive in the water. UV treatments on injection-molded cones, Santoprene® surrounds, baskets and grilles all help maintain top-shelf performance. KM speakers will endure almost any weather conditions with splash-and-spray-resistant sealed motors, cones and Locking/Sealed Terminal Covers. Speaker hardware is forged from rustproof, 316L stainless-steel.
Four-Ohm Voice Coil
One-Inch PEI Tweeter to Resist Corrosion
UV-Treated Polypropylene Woofer With Santoprene® Surround
UV-Resistant Polymer Basket
Locking/Sealed Terminal Cover
Sealed Motor Structure
316L Stainless Mounting Hardware Included
White and Charcoal Grilles With Seven-Color LED System Included*
Meets or Exceeds ASTM Standards for UV** and Salt/Fog Exposure***
*Upgradable to 20 Colors and 19 Lighting Modes with KMLC
**ASTM G154 400 hr. Accelerated UV Test
***ASTM B117 200 hr. Salt Fog Test
This KM Eight-Inch Coaxial Speaker works best with 150 watts of recommended power.
- Allow 7-14 days for delivery to metro areas. (doesn't include Covid Restrictions)
- Fully insured freight
- Tracking info will be sent through TXT message