Alpine Introduces the all-new Alpine Status sound system: using the same engineering and design concepts drawn from the third generation, Ultra High-Resolution AlpineF#1Status system, Alpine created "Alpine Status" to achieve High-Resolution Sound at a more approachable and accessible price point. The Alpine Status system is also extremely flexible: all components can be purchased and used in "stand-alone" configuration.
For the audiophile that's looking to build an ideal sound system, Alpine Status offers a wide range of Hi-Res Audio enabled speakers. The HDZ-65 Coaxial 2-Way speakers with a high-resolution bandwidth of 55Hz – 40kHz includes 170mm door woofers with an integrated 40mm Slim-Fit tweeters.
All speaker cones are made from the same Carbon Composite material to create a unified timbre identity during playback. They get very close to the AlpineF#1Status speakers look and feel, using a very similar constructing and motor assembly, as well as the identical build-materials for highest sound quality.

Hi-Res Audio Made Accessible
The Alpine Status system features many technologies, components and materials of the AlpineF#1Status system to achieve ultra high-precision music reproduction – at an affordable price tag. It is designed to play music tracks at 192kHz / 24bit format, which are widely accessible in many online stores and streaming platforms. High-Res Audio playback of 192kHz / 24bit allows Alpine Status to create a heightened listening experience in the vehicle that emulates the feeling of an intimate recording studio session.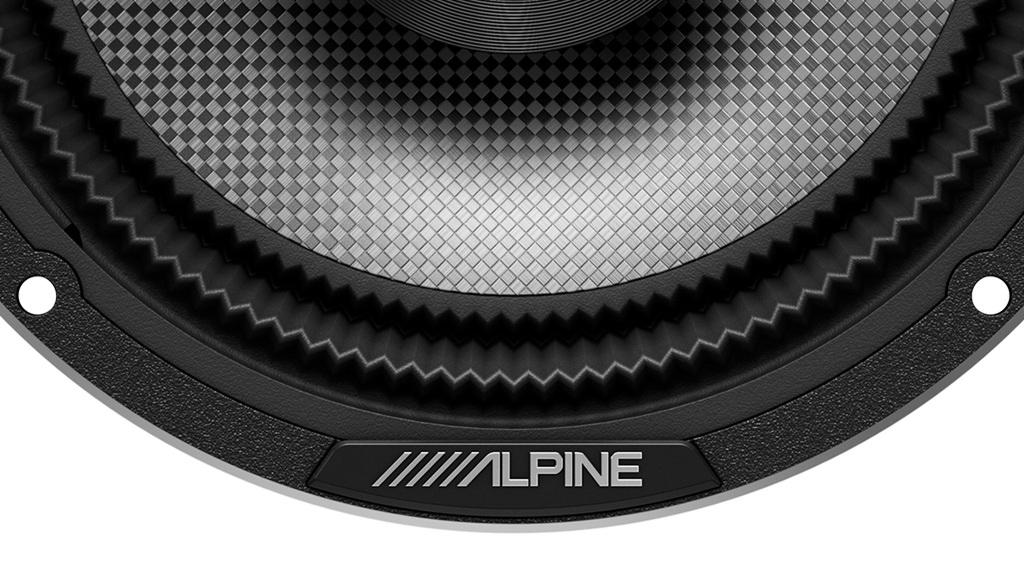 Carbon Fiber Cones
All speakers in this set (as well as the HDZ-110 Alpine Status subwoofer) use backed carbon composite cones to achieve a fully unified timbre identity – resulting in excellent harmonics. Carbon is very lightweight and stiff, resulting in high dynamics and low distortion. Backed carbon composite technology is also used in race-car monocoques for its light weight and high crash resistance.

Alpine Status Full System
Alpine Status features many components that are optimised in both power and performance as a complete system to play at their intended high-resolution spec for excellent, audiophile sound quality. However, each component can be purchased independently for custom system building.

Studio Recording Spec
Alpine Status achieves 192kHz/24Bit playback, which is 6.5 times the amount of digital audio data in a standard CD or digital streaming service and exceeds the standard High-Resolution spec of 96kHz/24Bit found in most aftermarket sound solutions. This allows Alpine Status to capture and accurately reproduce details like the breath of the artist or a musician's subtle interaction with an instrument. This capability not only reproduces music to the artist's original intention, but emulates the experience of a studio recording in the vehicle.