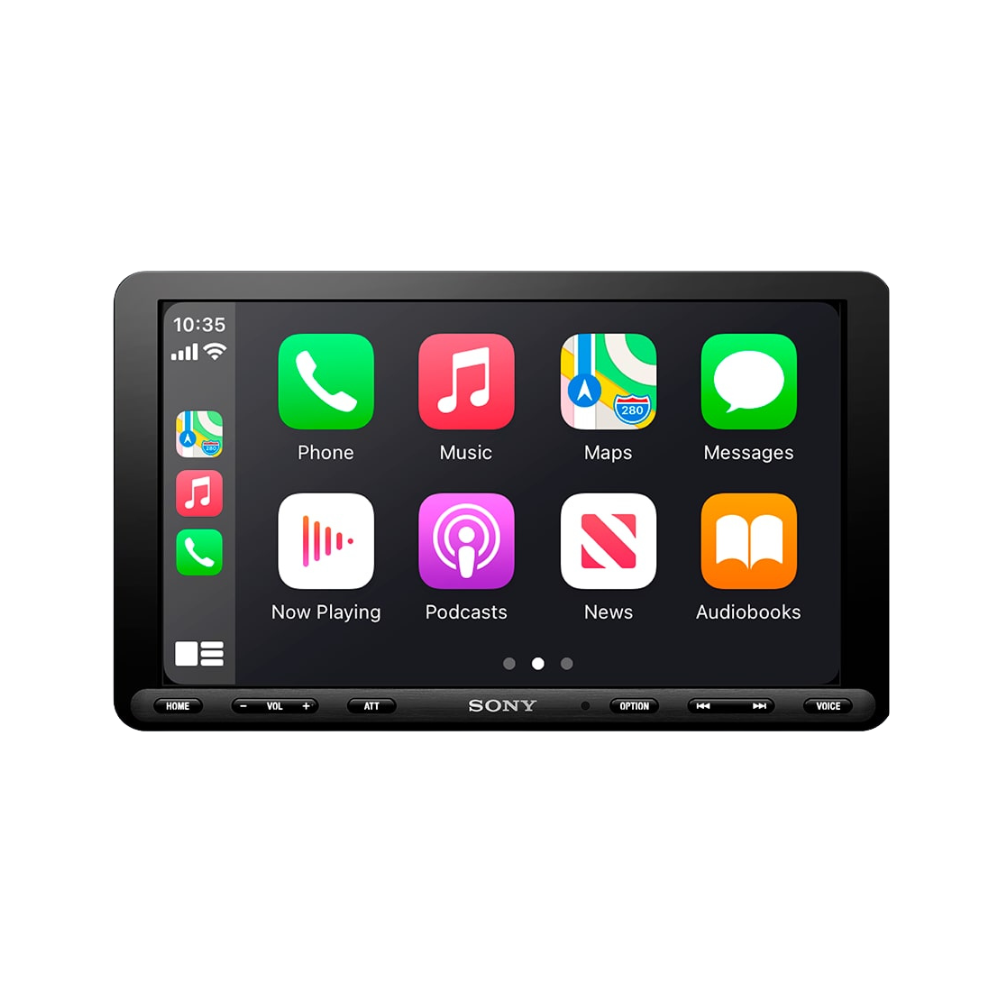 Sony XAV-AX8100 9" Apple CarPlay, Android Auto Headunit
Enhanced connection, intuitive control 

Enjoy smooth and simple control with every journey. A bezel-less 6.95" diagonal (17.6cm) capacitive touchscreen wakes up right after turning on the ignition and gives you intuitive control over music, communications, and more. 
Use with your phone
Connect your compatible Apple or Android smartphone to get directions, stream music and more.
Bezel-less capacitive touchscreen
The ultra-slim 6.95" diagonal (17.6cm) display uses a bezel-less panel, for a smooth fit on the dashboard that blends seamlessly with your car interior.
Dual USB ports
With 2 USB ports, you can enjoy all the greatest hits from your USB device while your phone handles directions and phone calls. 
Smarter driving with intelligent voice control
With the supplied external microphone and your connected smartphone, you can use simple voice control to navigate, communicate and play music on the road.
Siri with Apple Car Play
Easily access the iPhone features you know and love, just by talking to Siri. Music,
maps, phone calls and messages are all under your control.
Voice Control with Android™ Auto
Use commands to dictate messages, take phone calls or get help from Google Maps. You can even control music playback just by talking. 
Your personal navigator
Get directions in real-time without ever taking your hands off the wheel. Easily navigate to your destination,
or search for nearby stops mid-journey. 
Navigating with Apple CarPlay
Tell Siri where you're going, and it will give you real-time directions as you drive. 
 Navigating with Android™ Auto
Use Google Maps to get directions and traffic updates whenever you need them.
WebLink™ Cast Compatible 
WebLink™ is a lightweight app delivery platform designed especially for in-vehicle use. Using the Android or iOS device connection, it is now possible to mirror your smartphone screen right on the car audio display – for reliable, responsive infotainment anytime on the road.
Access information and entertainment on the road with ease with the XAV-AX8100 Media Receiver. Despite the single-DIN installation, a huge 8.95" (22.7 cm) display puts smart connectivity, useful navigation and stunning sound quality in easy reach.. Newly added HDMI connectivity allows you to hook up an external audio and visual source device.
Large 8.95" (22.7cm) Touchscreen
Single-DIN chassis gives more installation options
EXTRA BASS™ adds low-end power
Create virtual speakers on your dashboard with the Dynamic Stage Organiser
HDMI input for an external source device
OUTPUT POWER
55W x4
PRE OUT
3 Pre (Front / Rear / Sub x 1)
SCREEN DIAGONAL (INCH / MM)
8.95 inch
USB DEVICE CONTROL (AUDIO CODEC)
PCM / MP3 / WMA / AAC / FLAC
USB DEVICE CONTROL (VIDEO CODEC)
MPEG4-SP / AVC (H.264 Baseline) / WMV / FLV / MKV / XviD
- Allow 7-14 days for delivery to metro areas. (doesn't include Covid Restrictions)
- Fully insured freight
- Tracking info will be sent through TXT message